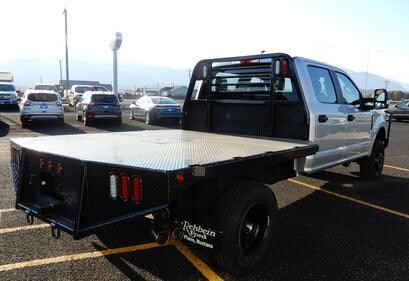 The Mustang is a great choice. The tube headache rack makes room for a tool boxes, fuel tanks, a range ranch equipment and stake pockets built into the deck give options for your own custom built sides. No frills, just function makes the Mustang a very competitively priced bed.  You have the option to upgrade to Rub rails with stake pockets and flat back on the Mustang bed. This option works great if you're wanting to add tall stake sides along the sides and rear to haul loads of gravel or dirt.    

*Price is for Flatbed only.  Installation is available, typical installation cost run $1200, however, can be between $900-$1500 depending on the materials needed. Some vehicles may require more prep and materials to complete the installation than others.
* Bradford Steel Under body Toolboxes $300 per side.  Can be installed with Flatbed for $375 per side.


* Flatbeds are available in a variety of Sizes for all vehicle makes and models, single wheel, dual wheel, short wheel base or long wheel base.